Browsing articles tagged with " ie6"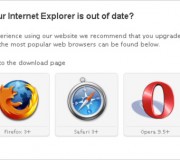 Stop using Microsoft's IE6 web browser, says Microsoft and I agree we don´t need to support our site for ie6 anymore !   Now you can tell your members they had a very old webbrowser and need to update.

Clients Testimonials
Thanks for your help and a great support my site works fine now ... no matter how often I had ask for your support you have kindly answered all of my questions ... I recommend you. I vote 5 stars for you.
Add your vldpersonals site here.
Sponsor/Donate to VldMods
I hope you like VldMods if you sponsor me I can make it even better ;) Thanks.