Browsing articles in "Old Mods"

Have you received quick message today?   Although we don't need quick messages on this site but as they say "diagram worths many words".   Spend 15 minutes and your users appreciate your efforts.

To start search for mods extension and tutorials for vldpersonals here is a good start ! The original post is on vldpersonals and made of seeme101 (Thanks) many mods/extension/tutorials is made for version 2.5.3 – 2.5.7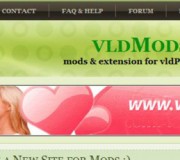 We are some guys made/making tutorials/mods for vldPersonals … but the most of them is for vldPersonals – 2.5.3 – 2.5.7 … but now it is some different coding between 2.5.3 – 2.5.7 so some tutorials/mods will not work with newer versions of vldPersonals.