How to install a forum software for vldpersonals
An article by
VldMods
5 Comments
Step 1. First we must install a forum software …
go to your cpanel and install your forum software (in this example it will be phpbb3)
and use the same username and password that you had using for your vldpersonals site.

First login to your cpanel:

Look for this button: softaculous:


Then you must click on the install button for phpbb3:

I had comment with green text and it is an example how to do the settings.
and I had comment with red text that I recommend you to not change !
Now you can hit the install button and cpanel will install phpbb3 for you ! Then it´s finished go to next step.
Step2. Okey now we must customize your forum.tpl files … and how to make it ! …
make a copy of page_default.tpl (you can found it in your templates folder)
rename it to forum.tpl and insert the iframe code … here is how to do that …
(then you had edit it you can upload it to your templates folder.)
find this code:
        <div class="typepage">
            <div class="dataitem single">
                <div class="entry">
                    {page_content}
                </div>
                <div class="clear"></div>
            </div>
change it: (we don´t need the call {page_content} in this .tpl file)
        <div class="typepage">
            <div class="dataitem single">
                <div class="entry">
             here you should insert you iframe code ...
                </div>
             and here you should insert you javascript
                <div class="clear"></div>
            </div>
this is your iframe code:
<iframe width="100%" id="iframe_id" name="iframe_name" src="https://vldmods.com/forum/" scrolling="no" frameborder="0" ALLOWTRANSPARENCY="true" onload=resize_iframe();></iframe>
change vldmods.com to you own sites webadress ;)
and you must also use a javascript code to get it to work:
<script type="text/javascript">
<!--

moz=document.getElementById&&!document.all
mozHeightOffset=20

function resize_iframe(){
document.getElementById("iframe_id").height="" // required for Moz bug, value can be "", null, or integer
document.getElementById('iframe_id').height=window.frames["iframe_name"].document.body.scrollHeight+(moz?mozHeightOffset:0)
}

// -->
</script>
now you can insert you iframe code and the javascript code:
instead of my text above (here you should insert you iframe code …)
and (here you should insert you javascript code …)
okey here it is all the code for it:
        <div class="typepage">
            <div class="dataitem single">
                <div class="entry">
                <iframe width="100%" id="iframe_id" name="iframe_name" src="https://vldmods.com/forum/" scrolling="no" frameborder="0" ALLOWTRANSPARENCY="true" onload=resize_iframe();></iframe>
                </div>
                <script type="text/javascript">
<!--

moz=document.getElementById&&!document.all
mozHeightOffset=20

function resize_iframe(){
document.getElementById("iframe_id").height="" // required for Moz bug, value can be "", null, or integer
document.getElementById('iframe_id').height=window.frames["iframe_name"].document.body.scrollHeight+(moz?mozHeightOffset:0)
}

// -->
</script>
                <div class="clear"></div>
if you insert the javascript code on wrong place it will mess up your auto scroll height function !!!
Step3. Now we should integrate it between your site and your forum …
first we must change the settings to your forum software: (we will done it in your sites controlpanel)
settings … integrations …
integrate database (members) between vldpersonals (your site) and the forum software (your forum)
utilies … update counters … synchronize third party member database …
Step4. We must add a new page and make a new Forum link in the header menu …
Now you must make a new page in controlpanel:
… go to content … manage page … general … add page …
(fill in this fields)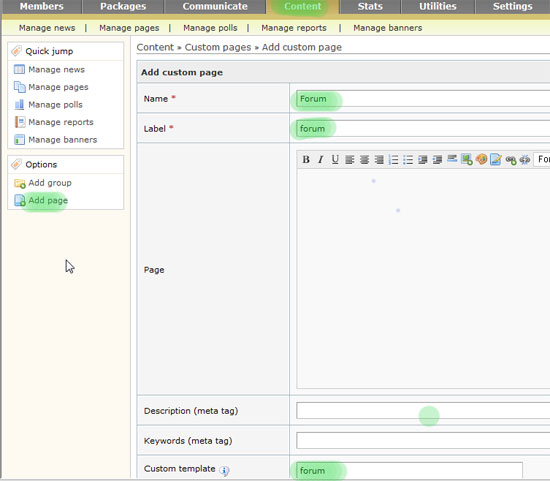 Name = Forum
Label = forum
Custom template = forum
and hit the submit button …
now we must edit the forum link for logged in members: (in header.tpl)
Look for <div id="headernav">
Somewhere below that, put the code in and it will be something like this
<!-- IF loggedin -->
<li><a href="https://www.vldmods.com/forum/">Forum</a></li>
<!-- ENDIF -->