Browsing articles in "VldPersonals"
Cometchat are offering a 15% discount on all our editions and upgrades! This offer is valid only to Monday so you better hurry. Add CometChat to your vldPersonals site today and increase interactivity instantly! Coupon Code is : TK15OFF
Sometimes members don´t upload a profile pictures but the owner for the site will show even this people on the frontpage (new members) here is the solution.

If we need to have more links in top menu you can find it in header.tpl find this code in header.tpl (it should be the same in all versions)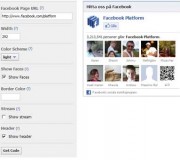 This is a beginner tutorial how to insert a facebook like box in sidebar for vldpersonals. it can be different between templates but later I will make another tutorial how to make it even better !

Hey please tell me if you wish some tutorials for vldPersonals. and maybe I will do it for you. I will try to make one new/week. So tell me that tutorials you need. If you don´t tell me I can´t know ;)
Okey my friends now I had renew and start our forum again I hope it will be  a better spamprotection now, but I must still approve all members manually.

Many file compare program cost money but this is free open source. You can download it here …

People had ask me this question a few times … how to make stats on the frontpage:   I think some of us allready use stats on our sites and some not. and some people don´t know how to do …   Maybee you have more stats code. Please comments it here … so we can have a better stats code on our sites.

Google has recently updated and released this beginner's guide to search engine optimization. Google Search Engine Optimization Starter Guide are going through important things you should think about to get better rankings on search engine like Google.   Take a look at the 32-page version PDF version here.

I get a question how to make a moderators for VldPersonals. I will make a tutorial how to do. Sometimes then your sites grow and it is many new members who register it can be difficult to admin to handle it alone so we need a moderator to help us.